Building new residential communities is no mean feat. Building healthy new communities is an even greater challenge. Released today by VicHealth, our five-year study into the creation of one such community, Selandra Rise in Melbourne's south-east growth corridor, points to the need for providing good services and integrated planning early on.
In most Australian cities new communities are usually set on greenfield sites. These have limited pre-existing infrastructure and services. Aside from housing and connections to water and electricity networks, at the bare minimum communities need parks, schools, shops, health services, public transport and roads.
Although the models and timing of the delivery of services and infrastructure vary, housing is usually delivered long before such essential services. For this reason early residents in new communities are often called "pioneers".
Debates continue about the timing and delivery of public infrastructure in new communities. At the heart of the issue are two conflicting viewpoints.
The economic rationalist view requires a big enough population to ensure viability of services such as public transport or shops before these are delivered. In contrast, a health promotion perspective calls for health-enabling facilities, infrastructure and services from day one.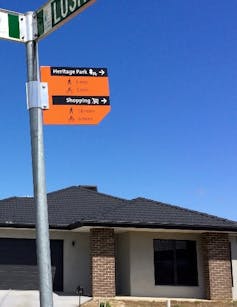 Major life changes such as moving house create an opportunity to intervene in unhealthy lifestyles and encourage new residents to adopt healthier travel practices, or "active transport". Examples include walking, cycling and taking public transport. However, the lack of infrastructure and services in the early years can force residents of new communities into car dependency.
Long-term returns on early investment
Taking a longer-term view and considering broader economic impacts, the health promotion perspective makes more sense. That's because having healthier communities reduces the cost of the burden of disease.
Recent work on obesity by Pricewaterhouse Coopers estimates the potential cost savings. A 2015 study found that if no action is taken, obesity and its health impacts are estimated to cost the Australian economy A$87.7 billion from 2015-2025. Over the same timeframe, it shows interventions to target obesity would provide a benefit of $2.1 billion.
Unfortunately, this report did not include environmental interventions such as active transport. Filling this gap, a 2014 report by the McKinsey Global Institute argues interventions to "reset" default lifestyle patterns – without relying on conscious choices by individuals – will play a vital role in improving population health. This, in turn, will cost-effectively reduce health-care costs and improve productivity.
An example is designing urban environments that promote physical activity. As others have pointed out, such interventions involve sectors beyond health – such as finance, transportation and urban planning. These sectors will "arguably have the greatest influence in creating environments conducive to obesity prevention", as well as reducing other negative health outcomes of sedentary lifestyles.